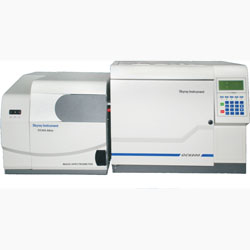 GC-MS 6800 Gas Chromatograph – Mass Spectrometer
Model GC-MS 6800
Application: Multiple
Brochure: PDF
Phone: 617.202.3879
Introduction
Skyray's new generation Gas Chromatograph – Mass Spectrometer (GC-MS) system offers high performance, high reliability, and low cost for customers of all types. Holding multiple patents, Skyray manufactures high quality GC-MS 6800, which is widely used in industrial inspection, food safety, environmental protection, etc.
Advanced Features
Electronic pressure/flow control system (EPC/EFC) on GC 6800 improves baseline stability and sensitivity
Patented EI filaments provide high efficiency of electron emission Pre-quad removes undesirable contamination before the main analytical quadrupole and decreases cleaning frequency
High quality vacuum system combined with high energy dynode (HED) electron multiplier (EM) offer magnificent sensitivity Self-protector safeguards the system against the situations, which would normally damage expensive components and require significant repair
Advanced digital compensation technology on Radio Frequency (RF) power supply guarantees satisfactory sensitivity and resolution over full mass range
High performance-to-price ratio, low maintenance, long-term stable industry or lab use
Technical Specifications
Main Unit Specfications
Temperature program steps: 24 steps
Heating zone: 6
Capability to control electronically; 16 channels for gas
Capability to install: 5 detectors +1 MS detector + 3 sample injectors with independent temperature control
Channel analysis: 3
Data acquisition speed: ≤ 3ms (250Hz) for all modules
Pressure and detector gas: digitally controlled
Memory: able to store 14 methods
Safety feature: Memory Protection When Power Off, Leakage Detection, Power Line Filter
Self diagnostic: provided
Oven Specfications
(Ambient +4℃) ~ 450℃, -50℃ ~ 450℃ with Liquid CO2.
Oven volume: 15 Liters
Temperature calibration at 0.04℃
Temperature variation coefficient: 0.040℃/0℃
Programming rate setting: 130℃/min
Cooling rate: 450℃ to 50℃ within 1 minute
Total system time: ~9999.99 min
Temperature resolution: ≤1℃
Temperature deviation: ≥ 2℃
Injection Port Specfications
4 independently temperature controlled injector units are provided
Injection port unit: Split/splitless injection unit provided as standard
2 injection ports shall be heated simultaneously.
Mass Spectrometry Specifications
Mass range: M/z 1 to 1300
Resolution: R=1M (FWHM)
Scan rate: 14,500 u/sec max.
Direct connection with capillary column
Temperature: room temperature to 450℃
Ion source: up to 450℃
Dynamic range : 10e6
Maximum flow of He to MS : 18 ml/min
Stabilizer : 0.1 amu/48 hour
Temperature: 50 ~ 450℃
Application Fields
Food safety and hygiene
Industrial inspection
Environmental protection
Pharmaceutical development
Criminal investigation/ Forensics
others