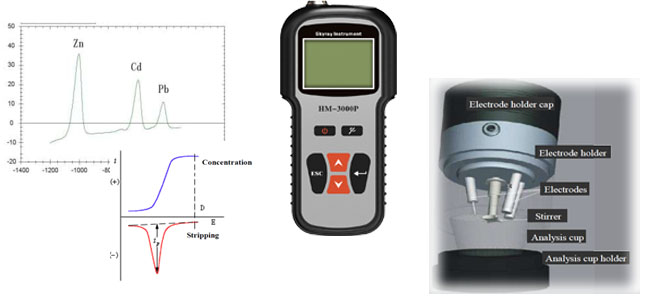 Heavy Metal Analyzer
HM-5000P (multifunctional) portable heavy metal analyzer is the 2nd generation product recently promoted by Skyray Instrument. It integrates the high sensitivity, authority- recognized "Anodic stripping method" and the fast, good anti-interference, national standard "Colorimetric method". The former method has been classified as a standard detection method by the EPA and other authorities in America, such as the EPA7063 and EPA7472, etc., while the latter the standard method in many countries and is widely used.

HM-3000P is a new model for 2013 based on the authority-approved standard method, anodic stripping voltammetry (ASV) which features low cost and high precision and are replacing traditional atomic absorption method in Europe. HM-3000P Portable Water Quality (Heavy Metals) Analyzer not only can be used for on-site application in urgent cases (for instance, on-site testing of contaminated water), but also can be applied for precise heavy metals detection in labs.