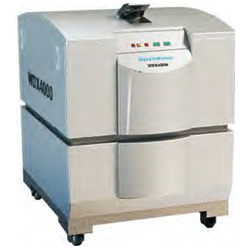 WDX4000 XRF Spectrometer
Model: WDX4000
Application: geology, cement, steel and environmental protection, etc
Phone: 617.202.3879
Introduction
Based on years of R&D and production experiences on simultaneous wavelength-dispersive X-ray fluorescence spectrometer, Skyray Instrument proudly launched WDX-4000, the first sequential wavelength­ dispersive X-ray fluorescence spectrometer which integrates unique and remarkable innovations. The performances of WDX-4000 meet the requirements for Wavelength­ dispersive X-ray Fluorescence Spectrometers. It can be used in fields of geology, cement, steel and environmental protection, etc. By a large number of general designs, WDX-4000 provides reliable and economical maintenance to customers in time.
Unique Goniometer design
Innovative and igneous steel-belt-drive system. This patented design provides no friction, no backlash, stable motion which guarantee the most accuracy angular positioning.
θ/2θ spindle has independent drive system with servo motor and optical encoder feedback.
Permanent magnet synchronous motor (PMSM) provides the fast and smooth motion.
Optical encoder's 0.0001° resolution and 0.0006° accuracy ensures that the integrated system has excellent performance.
Multi-channel Analyzer
12bits, 80Msps, the most powerful AD sampling system, records signal completely and accurately
4096 (12bit) channels analyzer based on high speed FPGA architecture and robust DSP algorithm is able to discriminate proper X-ray from stray X-ray
Energy-dispersive function is additional
X-ray Tube and HV generator
Standard 4kW power system provides ultra-sensitivity for trace element analysis and a faster speed of analysis
The thin beryllium window (50um or 75um) provides ultra-high transmission of X-ray, especial to low energy X-ray region
Max. 60kV and 140mA, (75kV and 150mA is optional) and flexible setting helps analysis method to be much finer
Dual water cooling circulation system, conductivity of deionized water lower than 1uS by resin increases of tube's service life as long as possible
What do you get?
WDX4000 Sequential Wavelength-Dispersive X-ray Fluorescence Spectrometer
Necessary Wiring
Computer + 20" Monitor -

FREE

Chiller and Vacuum pump
Proprietary Software -

FREE

1 Year Limited Warranty